Industry Spotlight: Recruiting in Construction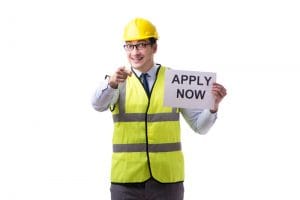 So far in our ongoing Industry Spotlight series, we've taken a look at recruiting in sales and tech. If you're a business owner in a more blue collar industry, however, you might be wonder what aspects of recruitment are particularly relevant to you. Our example this week is construction.
Who Are You Going to Reach?
If you operate a construction company and need to revamp your recruitment strategy, two very important things to consider are who exactly it is you're looking for and how you intend to connect with them. For instance, industries across Canada have made social media an indispensable component of how they build their teams, especially when recruiting students or recent grads. Meanwhile, the construction industry is an important hub of skilled work for Canadian veterans. The significant discrepancy between these two demographics is indicative of the fact that you'll need to think diversely and flexibly about who you're looking for.
Presenting Yourself
Regardless of who you want to draw towards your company for recruitment, you'll need to assess its image and carefully consider what you can offer the talent out there. This is particularly true in construction because of how challenging it can be to attract younger workers. Meanwhile, even when needing to hire staff who have a decade of experience or more, there's no escaping the fact that construction is a demanding industry. What kinds of compensation and benefits packages can you offer? Has your company evolved its culture to keep up with modern expectations? It's in your best interests to step up your game and put your best foot forward.
A Shifting Industry
A number of cultural and economic shifts are affecting the construction industry on an ongoing basis. The current skilled worker shortage introduces its own set of challenges as baby boomers retire and fewer young professionals pursue jobs in areas like construction. Meanwhile, the role of tools like virtual design are rapidly becoming more influential and complex. HR staff in construction are faced with the need to find talent for a wide range of both long-standing and newer skills. When you work with an agency who knows the industry and can help you stay ahead of the curve, recruiting will be a much more approachable endeavor.
Construction is just one of many industries that each carry their own considerations when it comes to recruitment. Whatever your line of work may be, our experts can help you build a winning team. Get in touch with one of our offices to enhance your search for the best talent!
Job ID
City
Remuneration
Apply Online
If your qualifications are a match for this position please apply online for immediate consideration. Thank you for your application.
Position Applying For:
Industry Spotlight: Recruiting in Construction
*If you experience trouble submitting your resume' here, please email the recruiter directly, you can find the recruiter's email address next to photo of the recruiter above, or contact your our local office.