The Latest in Hiring and Recruiting Technology
Do you know how technological advancements will affect employee recruitment this year? Are you familiar with the ways in which these technologies are changing interactions between employers and job candidates?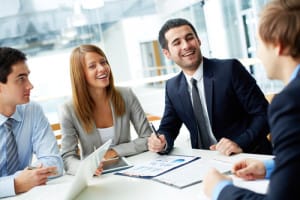 At Summit Search, we are committed to helping recruiters and potential employees come together to fill needs on both sides. We realize how technology trends directly affect recruitment, and we want to help our clients stay ahead of the curve.
As potential candidates for employment continue to demand recruitment systems that are simple and easy-to-use, it's essential for many of our clients to deliver systems that make it efficient to find and vet candidates. Here are a few technology trends that are set to transform recruitment:
A Shift in Career Portal Content 
Many companies' careers portals have traditionally contained content that the company wished to communicate to potential employees. Today, the focus is shifting to providing candidates with the information they wish to be familiar with from a given employer.
Potential candidates for employment want to find information that gives them an idea of what your company's culture is like, as well as an understanding of the positions available and possible opportunities for career advancement.
Renovating your company's careers portal should be your first step in improving your recruitment efforts. Your careers portal's first and foremost focus should be fostering a healthy relationship with candidates and helping them target positions within your company that fit their own skills and interests. 
Preparing for the Mobile Jobseeker 
The growing popularity of mobile devices should not be ignored when it comes to job recruitment. More and more potential candidates are starting to use mobile devices to conduct their job searches when a computer is not available.
The next generation of employees wants to be able to search for, connect with, and engage organizations from their mobile devices. Very few companies have designed functional mobile careers applications thus far, despite the fact that nearly one-quarter of all Google searches that contain the term "job" come from mobile devices. 
"Get Social" 
With a plethora of social media sites at your disposal, an increasing emphasis is being placed on connecting with candidates early in order to build brand recognition and create "candidate fans" that can be counted on to engage with your company's progress, even before a potential job opportunity presents itself.
You might've noticed that Facebook, Twitter, LinkedIn, and other sites are beginning to implement smart advertising and recommendation-based content that allows recruitment organizations to target job candidates more precisely. If you're not tapping into this resource, you're missing out!
At Summit Search, we're here to connect employers with potential candidates that will be able to contribute positively to your organization's goals. If you want to work with one of the top recruitment agencies in Canada, please don't hesitate to give the regional office near you a call today!
Job ID
City
Remuneration
Apply Online
If your qualifications are a match for this position please apply online for immediate consideration. Thank you for your application.
Position Applying For:
The Latest in Hiring and Recruiting Technology
*If you experience trouble submitting your resume' here, please email the recruiter directly, you can find the recruiter's email address next to photo of the recruiter above, or contact your our local office.