LinkedIn Training for Job Seekers and Business Referrals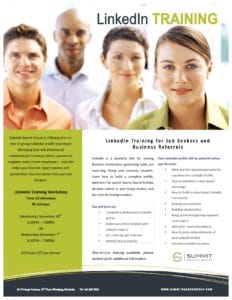 Summit Search Group is offering one-on-one or group LinkedIn profile training in Winnipeg that will enhance all relationships including clients, prospects, suppliers and current employees.  LinkedIn helps you discover opportunities and possibilities that are closer than you can imagine.
LinkedIn is a powerful tool for making business connections, generating leads, job searching, hiring and company research. Learn how to build a complete profile, optimize it for search results, how to find key decision makers in your target market, and the tools for lead generation.
You will learn to:
Complete a professional LinkedIn profile
Build your online network with industry experts
Get referred; get referrals
Identify new prospects
Your LinkedIn profile will be powerful when you discover:
What are the required elements for a professional LinkedIn Profile
How to establish a value based advantage
How to build a value based LinkedIn Community:
Inviting new contacts
Building relationships
Being active and gaining exposure as an expert
Asking for recommendations
How to personalize elements of your LinkedIn Profile
Common mistakes to avoid
LinkedIn Training Workshop
*max 12 attendees
90 minutes
201 Portage Avenue, 18th Floor, Winnipeg, MB
Wednesday November 30th
5:30PM – 7:00PM
OR
Wednesday December 7th
5:30PM – 7:00PM
$199 plus GST per person
To register please email matt.erhard@summitsearchgroup.com