Three Pharmaceutical Sales Opportunities in Calgary
Are you looking for job opportunities in the Calgary area? What type of positions are you interested in? If you have any experience in sales, you might want to think about the lucrative opportunities currently available in the pharmaceutical industry.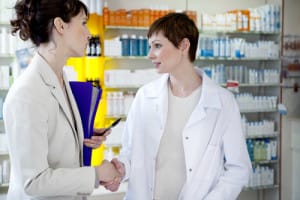 At Summit Search, our goal is to link prospective employees with amazing career opportunities all over Canada. If you have experience in the pharmaceutical industry, here are a couple opportunities that you should consider in Calgary: 
Pharmacy Sales Representative 
If you're already employed and you're looking for another source of part-time income, this position may be perfect for you! One of the fastest growing pharmaceutical companies in Canada is looking for a part-time pharmacy sales representative to work from home on a flexible, three day a week schedule.
The primary focus of this position is facilitating the distribution of quality pharmaceuticals that will benefit the wellbeing of many Canadians. Your prospective employer manufactures, markets, and distributes a variety of cutting edge, effective pharmaceuticals and consumer products to patients across Canada.
If you're interested in learning more about this opportunity, please visit the full job listing to learn more. 
Medical Device Sales Representative 
If you're looking to work from home in a manner that rewards your individual initiative, you should certainly consider this commission-based position with one of the more innovative medical technology companies in Canada.
This position offers a very lucrative commission plan, as well as a car allowance, and you'll be helping them manage and grow their business in the Alberta and Saskatchewan markets. Your main responsibilities will entail maintaining communications with current and prospective clients, making sales presentations, and organizing training initiatives as needed.
If you'd like to learn more about this position, don't hesitate to visit the full job listing to learn more. 
Pharmaceutical Sales Representative – Dermatology 
The prospective employer has been a leader in the dermatology market for more than 50 years, and they are looking to hire a full-time representative to build and foster relationships within the medical community in Alberta. This includes interfacing with dermatologists, pediatricians, and general practitioners in the area.
The Canadian market has grown steadily in the past few years and they are expanding their sales team to include an Alberta representative. The position comes with a variety of perks, including quarterly sales bonuses, a company SUV, full benefits, and the freedom to work from your own home.
If you're interested in this lucrative job opening, please visit the full job listing to learn more.
As a leading national professional employment agency, Summit Search is proud to serve Calgary, Edmonton, Halifax, Ottawa, Toronto, Vancouver, and Winnipeg, as well as the number of smaller Canadian communities in between these urban hubs.
We are here to connect innovative employers with smart, motivated individuals with the goal of advancing individual career goals as well as the bottom line. If you're interested in learning more about our company, please give your regional office a call today!
Job ID
City
Remuneration
Apply Online
If your qualifications are a match for this position please apply online for immediate consideration. Thank you for your application.
Position Applying For:
Three Pharmaceutical Sales Opportunities in Calgary
*If you experience trouble submitting your resume' here, please email the recruiter directly, you can find the recruiter's email address next to photo of the recruiter above, or contact your our local office.